Ingestible "bacteria on a chip" could help diagnose disease
MIT researchers have built an ingestible sensor equipped with genetically engineered bacteria that can diagnose bleeding in the stomach or other gastrointestinal problems.
This "bacteria-on-a-chip" approach combines sensors made from living cells with ultra-low-power electronics that convert the bacterial response into a wireless signal that can be read by a smartphone.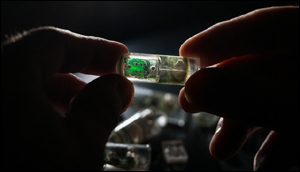 "By combining engineered biological sensors together with low-power wireless electronics, we can detect biological signals in the body and in near real-time, enabling new diagnostic capabilities for human health applications," says Timothy Lu, an MIT associate professor of electrical engineering and computer science and of biological engineering.
Read more at MIT
Image Credit: Lillie Paquette/MIT
-jk-