Indian city of Cochin powers entire airport through solar
Bosch Limited, a leading supplier of technology and services, has commissioned a 12 MW solar project for Cochin International Airport Limited (CIAL). Constructed on a land of 50 acres, this is the single largest solar project which has been constructed in an airport in India.
The project executed by Bosch Energy and Building Solutions (BEBS) team in India is estimated to generate approximately 50,000 units of electricity daily. Through this project, coupled with an earlier installed capacity of 1.1 MW, CIAL will technically become "grid power neutral".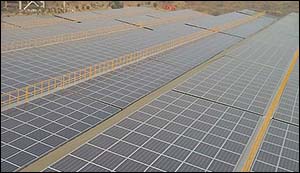 Designed entirely in-house at Bosch, the project was driven by a dedicated engineering team and supported by full time quality and safety experts working onsite. The agile team ensured delivery within agreed timelines despite challenging requirements such as specific safety standards due to proximity to the airport or excessive rainfall.
The CIAL project highlights Bosch's strength in complex and challenging projects involving special engineering tasks.
Read mote at Bosch
Image Credit: Bosch
-jk-