Humans Produce 100x More CO2 Than All Volcanoes Combined
According to a decade-long study by an international team of researchers, human CO2 emissions total 100 times more than the planet-warming effects of all volcanoes combined.
The total amount emitted by volcanoes is only about 0.3 gigatons a year — a tiny fraction of the 37 gigatons humankind produced in 2018 alone. That means they're not nearly as big of a contributor to global emissions as some prevailing theories hold.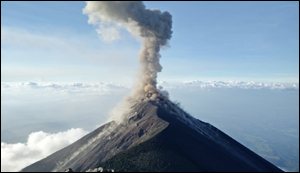 "The amount of CO2 pumped into the atmosphere by [manmade] activity in the last 10-12 years[is equivalent] to the catastrophic change during these events we've seen in Earth's past," Marie Edmonds, Professor of Volcanology and Petrology at Queens' College, Cambridge, told AFP. Unfortunately, for the Earth to level out carbon dioxide in its atmosphere, it'll be a very long while. "It will rebalance itself, but not on a timescale that is of significance to humans.
Read more at Futurism
Image Credit: Gary Saldana / Unsplash
-jk-