Huawei unveils 5G phone with foldable screen
Chinese telecoms giant Huawei on Sunday unveiled a phone with a folding screen, just four days after rival Samsung became the first major handset maker to offer the feature.
The phone, Mate X, will be compatible with the new fifth-generation wireless networks which are starting to be installed around the world, said Richard Yu, head of Huawei's consumer business group. The phone will be available in mid-2019 and has a price tag of 2,299 euros ($2,600). The Mate X has two screens -- a 6.6-inch main display and a 6.38-inch one on the rear. Open the device up and these combine to become one 8-inch panel with a 2,480 x 2,000 resolution. The Mate X is a little slimmer, too, at 11mm (0.43 inches) folded compared to the Fold's 17mm (0.67 inches).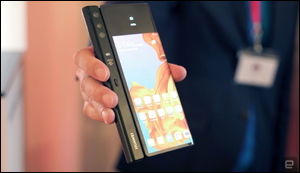 At the center of the Mate X is what Huawei's calling a Falcon Wing hinge, which curves outwards -- similar to Royole's setup. On either side of the hinge sit battery cells that offer 4,500mAh of power. That's bigger than the Galaxy Fold's 4,380mAh combined, which would normally take a pretty long time to charge. Huawei believes it can mitigate that with its updated SuperCharge technology, which it says can get the Mate X to 85 percent charged in 30 minutes.
Read more at Tech Xplore
Image Credit: Engadget
-jk-