Huawei joins smart speaker crowd with standout router
Huawei AI Cube is a rather unique device, combining a 4G modem, a home Wi-Fi router, a high-end 360-degree wireless speaker, and a Huawei-Amazon collaboration that promises Alexa integration and some not-yet-articulated AI capabilities.
Huawei's angle is to leverage its tech lead in networking equipment by also endowing its AI Cube with a slot for an LTE SIM card, making it a 4G hot spot, and an Ethernet port, allowing you to use it as a home Wi-Fi router as well as an Alexa-enabled speaker.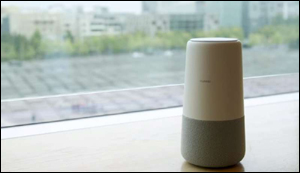 As far as specs and measurements go, the AI Cube is 218mm (8.6 inches) tall and has a 116mm (4.57 inches) diameter at both its base and its top. The speaker weighs in at 900g (2lb). It supports LTE Cat.6 for cellular speeds up to 300Mbps, and it has 802.11ac with dual-band Wi-Fi. You get four microphones with far-field voice recognition.
Red more at Verge
Image Credit: Huawei
-jk-