How to Build a Space Elevator From Scratch
The idea of a space elevator has been around for over a century. The basic concept is simple: a tether descends from a spacecraft in geostationary orbit to a floating platform at the equator, probably in the eastern Pacific Ocean.
Because of a counterweight that would extend far into space, the space elevator's tether would be gravitationally stable, allowing electric elevator cars to make the week-long climb to orbit powered by solar panels and ground-based lasers.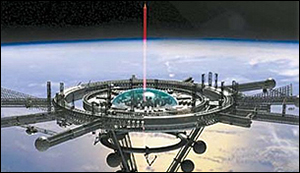 Researchers from the International Space Elevator Consortium (ISEC) believe, that such a system could eventually slash the cost of raising a kilogram of payload into geosynchronous orbit from roughly US $25,000 to $300 or less. The key word, of course, is "eventually". Technical challenges are legion, including building the aircraft carrier-size floating platform, designing safe, speedy climbers, and avoiding space debris and other satellites. But the truly fundamental obstacle is the lack of a material strong and resilient enough to form the elevator's tether.
In current designs, the space elevator's tether is not a thick round cable as originally proposed, but a paper-thin ribbon, a meter wide and 100,000 kilometers long. Even with such a slimmed-down approach, the strain of simply keeping its own mass aloft would instantly shred any tether made from steel, Kevlar, carbon composites, or even the best carbon nanotubes we can currently make.
Read more at Spectrum IEEE
Image Credit: ISEC
-jk-