High-temperature device that produces electricity from industrial waste heat
Glass and steel makers produce large amounts of wasted heat energy at high temperatures, but solid-state thermoelectric devices that convert heat to electricity either don't operate at high enough temperatures or cost so much that thein use is limited to special applications such as spacecraft.
MIT researchers have developed a liquid thermoelectric device with a molten compound of tin and sulfur that can efficiently convert waste heat to electricity, opening the way to affordably transforming waste heat to power at high temperatures.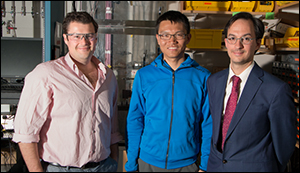 Measured on a dollar-per-watt basis, molten tin sulfide devices could be important to industries that operate at high temperature. The dollar per watt, when you have large surface area, is dictated by the cost of your material. Other advantages of the proposed system include the simplicity of handling tin and sulfur, the semiconducting mixture's relatively high electrical conductivity and relatively low toxicity compared to compounds such as tellurium and thallium or lead and sulfur.
Read more at MIT News
Image Credit: Denis Paiste/Materials Processing Center
-jk-