Haichang Optotech: Energy saving LED tube with IR sensor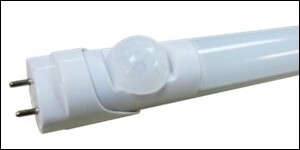 By automatically turning on full brightness with the detection of a car or human being, the new generation Infrared Sensor LED Tube is the ideal replacement for fluorescent tubes in parking lots and garages.
The Infrared Sensor LED Tube Light works in this way: When a car or human is detected (by the infrared sensor on the LED tube) moving in the direction of the garage, the LED tube will be turned on automatically with full brightness. After 10 to 30 seconds of delay (it can be adjusted), it will be turned down to 10%~30% brightness automatically. When there's no human or car detected, the Infrared Sensor LED Tube Light fixture will give off a low amount of light with a power consumption of only 3 watts, which is enough for on-site monitoring. During busier hours, the tube remains at full brightness.
Image credit: Haichang Optotech 
Further reading at 
ledinside.com