Graphene material strengthens nerve signaling in the brain
Less than 20 years after it was developed, a thin, resilient sheet of carbon atoms with remarkable properties known as graphene is transforming biomedical fields as far flung as tissue engineering, neuroprosthetics and drug discovery.
Because it readily conducts heat and electricity, graphene also may be a good biosensor. But it's not neutral. When Vanderbilt University scientists tried to use graphene to measure electrical activity in the brain, they found that it actually enhanced nerve cell signaling.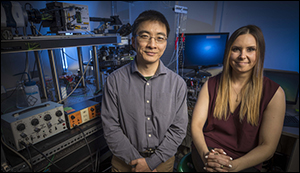 These findings, reported last week in the journal Nature Communications, came as a complete surprise to the investigators. They raise the possibility that graphene may enable researchers to change how cells communicate with each other by manipulating the cholesterol content in the cell membrane.
Read more at Vanderbil University
Image Credit: Vanderbil University
-jk-