Going beyond 3D printing to add a new dimension for additive manufacturing
24. 8. 2016 | Lawrence Livermore National Laboratory | www.llnl.gov
A team of Lawrence Livermore National Laboratory researchers has demonstrated the 3D printing of shape-shifting structures that can fold or unfold to reshape themselves when exposed to heat or electricity. The micro-architected structures were fabricated from a conductive, environmentally responsive polymer ink developed at the Lab.
While the approach of using responsive materials in 3D printing, often known as 4D printing, is not new, LLNL researchers are the first to combine the process of 3D printing and subsequent folding (via origami methods) with conductive smart materials to build complex structures.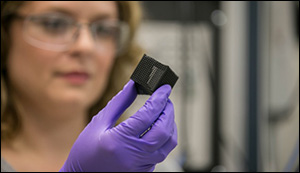 The researchers describe creating primary shapes from an ink made from soybean oil, additional co-polymers and carbon nanofibers, and programming them into a temporary shape at an engineered temperature, determined by chemical composition. Then the shape-morphing effect was induced by ambient heat or by heating the material with an electrical current, which reverts the part's temporary shape back to its original shape.
Through a direct-ink writing 3D printing process, the team produced several types of structures -- a bent conductive device that morphed to a straight device when exposed to an electric current or heat, a collapsed stent that expanded after being exposed to heat and boxes that either opened or closed when heated.
Read more at Lawrence Livermore National Laboratory
Image Credit: Lawrence Livermore National Laboratory
-jk-