GM starts producing 200-mile electric Chevrolet Bolt
General Motors has started making Bolt hatchbacks on a slow assembly line at a factory in Orion Township, Michigan, north of Detroit.
The cars, starting at $37,495 before a $7,500 federal tax credit, will go on sale in California and Oregon before the end of the year, and will spread to the rest of the country next year. The average sales price of a new vehicle in the U.S. is about $34,000.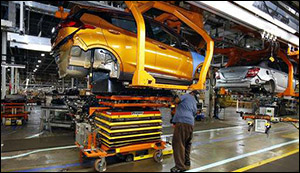 The Bolt's range more than covers the average daily round-trip commute of about 40 miles in the U.S., and that should give comfort to those who fear running out of power. Studies predict that GM will sell just under 30,000 Bolts in the first year, which won't add much to the roughly 235,000 electrics now on U.S. roads. There will be small growth as more companies such as Tesla Motors roll out affordable electric vehicles with range over 200 miles. Last year about 100,000 EVs were sold in the U.S.
Still, Chevrolet believes the Bolt is a game-changer. GM says they should have a big advantage over Tesla, which doesn't have service centers in every state.
Read more at Phys.org
Image Creidt: AP Photo/Duane Burleson
-jk-