Glow-in-the-dark dye could fuel liquid-based batteries
Scientists at the University at Buffalo identified a fluorescent dye called BODIPY as an ideal material for stockpiling energy in rechargeable, liquid-based batteries that could one day power cars and homes.
BODIPY — short for boron-dipyrromethene — shines brightly in the dark under a black light. But the traits that facilitate energy storage are less visible. According to new research, the dye has unusual chemical properties that enable it to excel at two key tasks: storing electrons and participating in electron transfer. Batteries must perform these functions to save and deliver energy, and BODIPY is very good at them.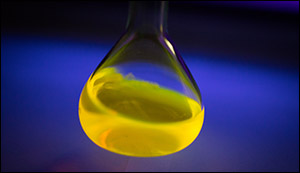 In experiments, a BODIPY-based test battery operated efficiently and with longevity, running well after researchers drained and recharged it 100 times.
Testing batteries consist of two tanks of fluids separated by various barriers. When the battery is being used, electrons are harvested from one tank and moved to the other, generating an electric current that — in theory — could power devices as small as a flashlight or as big as a house. To recharge the battery, you would use a solar, wind or other energy source to force the electrons back into the original tank, where they would be available to do their job again.
Battery's effectiveness depends on the chemical properties of the fluids in each tank.
Read more at University at Buffalo
Image Credit: Douglas Levere
-jk-