GE - Alstom transaction
Alstom secured a strategic deal with General Electric and in focuses comepletely on rail transport.
"Today represents a major milestone in Alstom's history. We managed to secure a win-win deal with General Electric, which protects the interests of employees and customers in the Energy businesses, while reinforcing Alstom's positioning in the transport industry. Alstom today holds leadership positions on a globally growing rail market and will rely on a solid financial base to support its growth strategy. This company, entirely refocused on transport, also benefits from a skilled management team led by Henri Poupart-Lafarge and I am confident in its ability to drive the Group towards future successes," said Patrick Kron, Chairman and CEO of Alstom.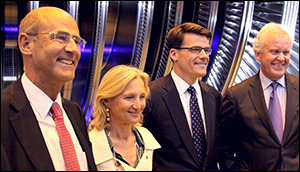 Completed steps:
- The Information and consultation process with works councils is completed.
- The Master agreement was signed by Alstom and General Electric, along with all related documentation (totalling more than 1,500 pages, including the joint ventures in energy and signalling).
- The Authorisation as per the law on foreign investments in France is secured.
- The Shareholders approved the transaction on the 19th December 2014.
- Overall around twenty authorisations have been granted in total in relation to mergers and other statutory requirements.
- The European Commission and the US Department of Justice approved the transaction between Alstom and General Electric on the 8th September 2015.
- Alstom closed the sale of its Energy activities (Power generation and Grid) to General Electric on the 2nd November 2015. Consequently Alstom is today entirely refocused on rail transport.
Next step:
- The closing will be followed by a General Meeting which will submit a public share buy-back offer to the shareholders (Offre publique de rachat d'actions, OPRA).
Read more at Alstom
Image Credit: Alstom
-jk-