From parcel delivery to security, Singapore bets big on drones
Hi-tech Singapore is planning to roll out a swarm of drones for tasks that include delivering parcels, inspecting buildings and providing security.
Companies have already started testing the devices for commercial use, mainly in an area of over 200 hectares (500 acres) dotted with high-rise buildings and shopping malls, specially designated by the government for the trials. It is part of the affluent city's drive to embrace technological innovation, as well as an effort to tackle a manpower shortage in a country of just 5.6 million, which relies on foreign migrant workers in many low-paying sectors.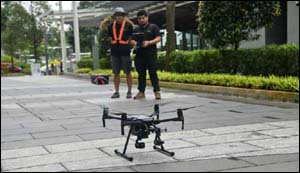 Commercial use of unmanned aerial vehicles is already taking off around the world, in areas as diverse as crop-spraying and surveying for insurance claims, but Singapore's push represents a particularly ambitious bet on the technology. The new system will see high-resolution images taken by drones and analysed to check for defects, with inspections taking a few days rather than a few weeks, as they do at the moment.
Read more at AFP
Image Credit: AFP / Roslan RAHMAN
-jk-