FoodTracker: An AI-powered food detection mobile application
A research team at McGill University in Canada has developed a mobile application that can recognize food items inside an overall meal in real-time, providing useful nutrition-related information.
"Our lab focuses on healthcare-related applications on embedded systems," Zelijko Zilic one of the researchers who carried out the study, told TechXplore. "We aim to bring automation into food journaling, so that people who care about they daily consumption or patients can keep tracking meal items and nutrition contents in their daily life."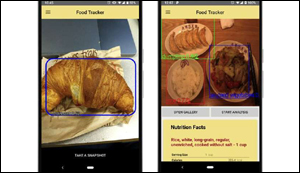 In their recent study, Zilic and his colleagues specifically set out to develop an application for smartphones that can rapidly and effectively recognize the food that a user is consuming in real-time, offering nutrition facts for each component of a meal. FoodTracker, the mobile app developed by the researchers, is very easy to use. When a user points his smartphone camera to a plate containing his/her meal, the app rapidly recognizes its different ingredients.
Read more at TechXplore
Image Credit: Sun, Radecka & Zilic
-jk-