Flexible Smart Sensors and the Future of Health
Researchers from some of the top educational institutions and the private sector have been developing lightweight, bendable sensors that take advantage of the latest biomaterials and microelectronics to create smart bandages, stamps and stickers that will give us new insights to improve our health and wellness.
Supported by the National Science Foundation (NSF), researchers from Harvard, Purdue, Tufts and Brigham and Women's Hospital have created smart bandages to monitor and treat wounds that require ongoing care, such as diabetic ulcers, bed sores and burns.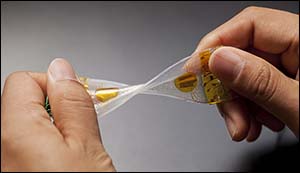 Another team from UC Berkeley is creating a similar technology to detect tissue damage associated with bed sores before it progresses. It works by using a printed array of tiny electrodes on a thin flexible film to monitor for the electrical changes caused by cell death.
Smart bandages and similar sensors may still be five to ten years away from being used on patients, but they will eventually enable doctors and caregivers to monitor wounds in real-time by collecting valuable data, and to automatically remedy a condition, such as an infection, a drop in insulin, etc.
Wearable patches have numerous additional use cases. For example, the team led by John Rogers from the University of Illinois previously created electronic devices that were inserted into the pelvic nerve to reduce bladder dysfunction, and on the heart as an advanced pacemaker. Stamps can even dissolve safely inside the body after a period of time, reducing the risk of long-term complications. It's tantalizing to imagine a future where every organ can be monitored, to ensure any ailment is under control.
Read more at Engadget
Image Credit: MC10
-jk-