First driverless buses travel public roads in the Netherlands
The first self-driving electric shuttle for use on public roads has taken to the road in the Netherlands. The WEpod took six passengers down a 200m stretch of street  in the first trial of its kind.
The plan for the driverless shuttle bus is to take passengers between the two towns of Wageningen and Ede in the province of Gelderland. During its test phase it will not travel in challenging conditions, such as in rush hour traffic, at night or in bad weather. A control room will monitor the vehicle and safety of its passengers. The six-person vehicle has a maximum speed of 25 kilometres per hour.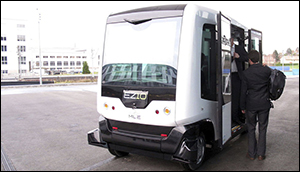 The WEpod team intend to equip the vehicle with additional technical equipment such as cameras, radar, laser and GPS to track the environment the vehicle will travel in. The vehicles will also be equipped with multiple cameras. The cameras are used to map landmarks, which is used as an alternative navigation tool when GPS accuracy is masked by road obstacles like trees.
The WEpod can be booked using an app which will allow passengers to reserve a seat and specify their starting points and their destinations. Vehicles are expected to select their itineraries independently.
Read more at The Telegraph
Image Credit: WEpod
-jk-