First commercial electric plane takes flight in Canada
The world's first fully electric commercial aircraft took its inaugural test flight this week, taking off from the Canadian city of Vancouver and offering hope that airlines may one day end their polluting emissions.
"This proves that commercial aviation in all-electric form can work," said Roei Ganzarski, chief executive of Seattle-based engineering firm magniX. The company designed the plane's motor and worked in partnership with Harbour Air, which ferries half a million passengers a year between Vancouver, Whistler ski resort and nearby islands and coastal communities.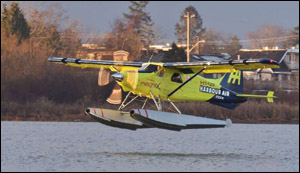 Ganzarski said the technology would mean significant cost savings for airlines—not to mention zero emissions. On top of fuel efficiency, the company would save millions in maintenance costs, as electric motors require "drastically" less upkeep. However the e-plane has to be tested further to confirm it is reliable and safe. In addition, the electric motor must be approved and certified by regulators.
Read more at Tech Xplore
Image Credit: magniX
-jk-