Fast 3D Microscope with Nano Precision
A fast 3D optical microscope which can acquire a full field image of the surfaces of objects at nanoscale resolution was developed recently in the lab of Prof. Ibrahim Abdulhalim in the Unit of Electro-Optical Engineering at BGU. 
The microscope is based on parallel phase shift interferometry, which allows for three phase images to be obtained simultaneously and extraction of the height topography map in a simple algebraic computation. Based on the same principle, the researchers demonstrated vibration measurements with amplitudes ranging from 1nm to tens of microns with sub-nm resolution.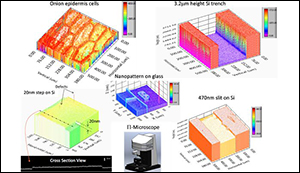 The microscope emerged from the doctoral and post doctoral work of Dr. Avner Safrani followed by Dr. Michael Ney's post-doctoral work.
Read more at BGU
Image Credit: BGU
-jk-