FarmWise Raises $14.5 Million to Teach Giant Robots to Grow Our Food
We humans spend most of our time getting hungry or eating, which must be really inconvenient for the people who have to produce food for everyone. For a sustainable and tasty future, we'll need to make the most of what we've got by growing more food with less effort, and that's where the robots can help us out a little bit.
FarmWise, a California-based startup, is looking to enhance farming efficiency by automating everything from seeding to harvesting, starting with the worst task of all: weeding. And they've just raised US $14.5 million to do it.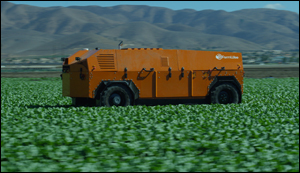 Weeding is just one thing that farm robots are able to do. FarmWise is collecting massive amounts of data about every single plant in an entire field, practically on the per-leaf level, which is something that hasn't been possible before. Data like this could be used for all sorts of things, but generally, the long-term hope is that robots could tend to every single plant individually—weeding them, fertilizing them, telling them what good plants they are, and then mercilessly yanking them out of the ground at absolute peak ripeness.
Read more at IEEE Spectrum
Image Credit: FarmWise
-jk-