Face to Face with Nest's smartest home security camera
Nest's new home security camera is supposed to be so smart that it can identify people it's been introduced to.
That skill comes from facial-recognition technology made by Nest's sibling company, Google. The Nest Cam IQ camera is so slick that it carries a premium price—$300—plus a $10 monthly subscription to run the facial-recognition program and other features, such as 10-day video storage.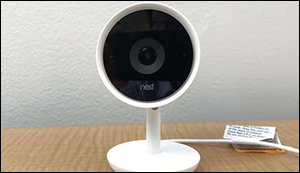 The Nest Cam IQ offers a glimpse at how deeply intelligent computers will be able to peer into our lives, especially as more home appliances become connected to the internet.
Read more at Phys.org
Image Credit: Nest
-jk-