Exciting Breakthrough in 2D Lasers
An important step towards next-generation ultra-compact photonic and optoelectronic devices has been taken with the realization of a two-dimensional excitonic laser.
Scientists with the U.S. Department of Energy (DOE)'s Lawrence Berkeley National Laboratory (Berkeley Lab) embedded a monolayer of tungsten disulfide into a special microdisk resonator to achieve bright excitonic lasing at visible light wavelengths.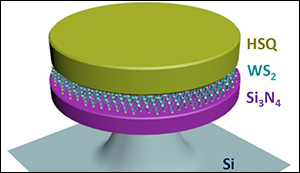 "Our observation of high-quality excitonic lasing from a single molecular layer of tungsten disulfide marks a major step towards two-dimensional on-chip optoelectronics for high-performance optical communication and computing applications," says Xiang Zhang, director of Berkeley Lab's Materials Sciences Division and the leader of this study.
Among the most talked about class of materials in the world of nanotechnology today are two-dimensional (2D) transition metal dichalcogenides (TMDCs). These 2D semiconductors offer superior energy efficiency and conduct electrons much faster than silicon. Furthermore, unlike graphene, the other highly touted 2D semiconductor, TMDCs have natural bandgaps that allow their electrical conductance to be switched "on and off," making them more device-ready than graphene. Tungsten disulfide in a single molecular layer is widely regarded as one of the most promising TMDCs for photonic and optoelectronic applications. However, until now, coherent light emission, or lasing, considered essential for "on-chip" applications, had not been realized in this material.
In addition to its photonic and optoelectronic applications, this 2D excitonic laser technology also has potential for valleytronic applications, in which digital information is encoded in the spin and momentum of an electron moving through a crystal lattice as a wave with energy peaks and valleys. Valleytronics is seen as an alternative to spintronics for quantum computing.
Read more at Berkeley Lab
Image Credit: Berkeley Lab
-jk-