Even short-lived solar panels can be economically viable
A new study shows that, contrary to widespread belief within the solar power industry, new kinds of solar cells and panels don't necessarily have to last for 25 to 30 years in order to be economically viable in today's market.
Rather, solar panels with initial lifetimes of as little as 10 years can sometimes make economic sense, even for grid-scale installations — thus potentially opening the door to promising new solar photovoltaic technologies that have been considered insufficiently durable for widespread use.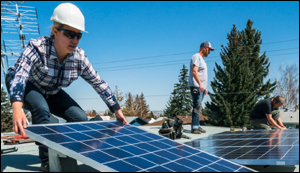 Part of the reason that the economics of the solar industry look different today than in the past is that the cost of the panels (also known as modules) has plummeted so far that now, the "balance of system" costs — that is, everything except the panels themselves — exceeds that of the panels. That means that, as long as newer solar panels are electrically and physically compatible with the racking and electrical systems, it can make economic sense to replace the panels with newer, better ones as they become available, while reusing the rest of the system.
Read more at MIT
Image Credit: MIT
-jk-