Environmentally-friendly graphene textiles could enable wearable electronics
A new method for producing conductive cotton fabrics using graphene-based inks opens up new possibilities for flexible and wearable electronics, without the use of expensive and toxic processing steps.
Wearable, textiles-based electronics present new possibilities for flexible circuits, healthcare and environment monitoring, energy conversion, and many others. Now, researchers at the Cambridge Graphene Centre (CGC) at the University of Cambridge, working in collaboration with scientists at Jiangnan University, China, have devised a method for depositing graphene-based inks onto cotton to produce a conductive textile. The work demonstrates a wearable motion sensor based on the conductive cotton.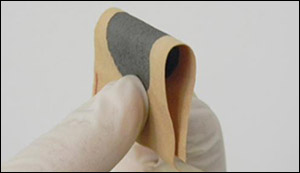 Cotton fabric is among the most widespread for use in clothing and textiles, as it is breathable and comfortable to wear, as well as being durable to washing. These properties also make it an excellent choice for textile electronics. A new process is a low-cost, sustainable and environmentally-friendly method for making conductive cotton textiles by impregnating them with a graphene-based conductive ink.
The team of scientists created inks of chemically modified graphene flakes that are more adhesive to cotton fibres than unmodified graphene. Heat treatment after depositing the ink on the fabric improves the conductivity of the modified graphene.
Read more at University of Cambridge
Image Credit: Jiesheng Ren
-jk-