Entirely different kind of self-driving car
A new startup that proposes a different spin on autonomous transportation came out of stealth today. The company, called Nuro, was founded by two former lead Google engineers who worked on the famed self-driving car project. Unlike the plethora of self-driving startups out there, Nuro isn't focused on reconfiguring robot taxis or autonomous trucks, but on designing a new type of vehicle altogether.
Nuro is focused on deliveries, specifically the kind that are low-speed, local, and last-mile: groceries, laundry, or your take-out order from Seamless. The startup thinks that automating these services could help shoulder the sharp increase in last-mile deliveries, while also reducing traffic accidents and boosting local businesses who are looking for ways to thrive and compete in the age of Amazon.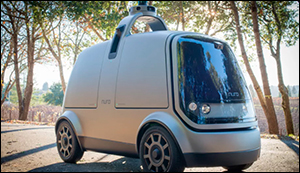 And their timing couldn't be better. The converging trends of robotics, self-driving cars, and e-commerce are leading to an explosion of interest in the last-mile delivery challenge. Consumers are ordering more items online than ever before, and there is a growing expectation for shorter and shorter delivery windows. Nuro has already raised $92 million in two rounds of fundraising and is in talks with a number of retailers and delivery providers about possible partnerships.
Read more at The Verge
Image Credit: Nuro
-jk-