Engineers design color-changing compression bandage
Compression therapy is a standard form of treatment for patients who suffer from venous ulcers and other conditions in which veins struggle to return blood from the lower extremities. Compression stockings and bandages, wrapped tightly around the affected limb, can help to stimulate blood flow. But there is currently no clear way to gauge whether a bandage is applying an optimal pressure for a given condition.
Now engineers at MIT have developed pressure-sensing photonic fibers that they have woven into a typical compression bandage. As the bandage is stretched, the fibers change color. Using a color chart, a caregiver can stretch a bandage until it matches the color for a desired pressure, before, say, wrapping it around a patient's leg.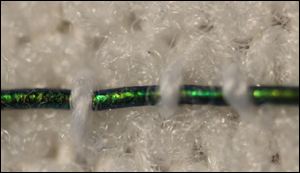 The photonic fibers can then serve as a continuous pressure sensor — if their color changes, caregivers or patients can use the color chart to determine whether and to what degree the bandage needs loosening or tightening.
Read more at MIT
Image Credit: MIT
-jk-