Elon Musk unveils new Mars rocket prototype
Billionaire entrepreneur Elon Musk has unveiled the latest iteration of his space company's newly assembled Starship, outlining a speedy development timeline for the centerpiece vehicle of SpaceX's quest to launch humans to the moon and Mars.
Starship, a shiny steel rocketship designed to ferry dozens of humans to the moon and Mars, is the top half of Musk's colossal interplanetary rocket system that stands 387 feet tall (118 meters) as the latest addition to SpaceX's lineup of reusable launch vehicles. Musk named Japanese billionaire Yusaku Maezawa as Starship's first private passenger in 2018.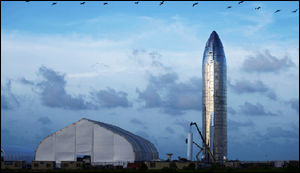 The Boca Chica village, a few miles north of the Mexican border, is ground zero for SpaceX's three-year experimental test program for Starship, whose rocket engine tests have rattled the nerves of residents living in a remote hamlet of roughly two dozen homes a mile away.
Read more at Reuters
Image Credit: Reuters
-jk-