Domino's next pizza delivery guy might be this awkward robot
The Domino's crew in Australia has designed an autonomous robot that can navigate its way to your doorstep and deliver your pizza order.
The four-wheeled Domino's Robotic Unit (DRU) prototype can detect and avoid obstacles as it travels on sidewalks to reach its destination. Separate storage compartments keep your pizzas hot and your drinks cold. Domino's says it's tested DRU on several deliveries in semi-autonomous mode, with permits from the Queensland Department of Transport and Main Roads.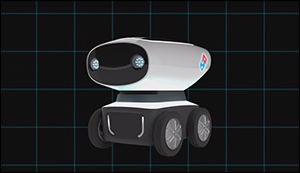 The company is still a while away from sending out DRU to tackle regular orders; it still has a number of legal requirements to fulfill before the robot can be pressed into service.
Read more at The Next Web
Image Credit: Domino's Australia
-jk-