Dojo is monitor for protecting smart home devices
If the future looks anything like what sci-fi shows have promised, then the smart home will soon do everything for us. For better or worse, we can already talk to our refrigerators, control the temperature or lighting with our smartphones. Of course, for every device that gets hooked up to the internet, there's a story of someone hacking it.
Unless, of course, you had some kind of anti-virus protection for your entire Wi-Fi network. That's the idea behind Dojo, a new product from internet security company BullGuard. The device connects to your Wi-Fi router and works like an IoT immunization to monitor activity on devices and flag potential threats. It goes on sale for $200, which includes the hardware and the first year of service.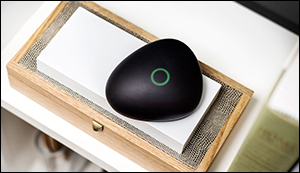 The system breaks down into several parts: A dock plugs directly into the Wi-Fi router, where it acts like a firewall between your connected devices and potential threats. A pebble-shaped piece of hardware, designed to look like an unobtrusive "digital pet rock," displays security updates—green for all clear, yellow for suspicious activity, and red for threats that require further action. If the system detects a threat, it can automatically disconnect the affected devices to keep the malware from leeching data or hacking into other devices. You can control the whole system through a smartphone app, which uses a chat-like interface to communicate security alerts and includes a function to remotely control or disconnect devices.
Read more at Wired
Image Credit: BullGuard
-jk-