Discovery takes pressure off blood measurements
Monash University researchers are developing a revolutionary, portable blood pressure monitoring device that provides data continuously to patients.
In a world-first study, led by Associate Professor Mehmet Yuce from Monash University's Department of Electrical and Computer Systems Engineering, 43 Australian participants trialed a wireless blood pressure monitoring device, developed by the research team, which provided continual readings across a 24-hour period.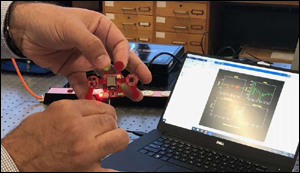 Researchers used continuous wave radar (CWR) and photoplethysmogram (PPG) sensors to calculate continuous blood pressure measurements. The CWR and PPG sensors were placed on the sternum and left earlobe respectively. By using radar technology, researchers were able to calculate the pre-ejection period (PEP) – the mechanical delay associated with heart movements ejecting the blood – and the pulse transit time to estimate blood pressure in patients while sitting, laying down or exercising.
Read more at Monash University
Image Credit: Monash University
-jk-