DHL parcelcopter launches initial operations for research purposes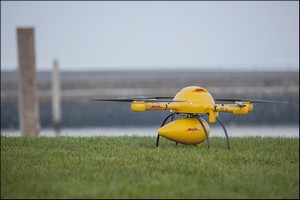 DHL Parcel will soon launch a unique pilot project on the North Sea island of Juist: For the first time worldwide, medications and other urgently needed goods will be delivered to the island at certain times of the day by DHL parcelcopter. This research project represents the first and only time in Europe that a flight by an unmanned aircraft will be operated outside of the pilot's field of vision in a real-life mission. By taking this step, DHL Parcel has moved to the next phase of the parcelcopter research project it launched in December 2013.

Since its maiden flight last December, the DHL parcelcopter has been modified to perform this specific type of mission. The research team optimized such aspects as flight duration, flight range and speed to address the special challenges posed by the wind and marine-weather conditions of the North Sea.
Further information at DP DHL