Customised silicone heart valves
Scientists at ETH Zurich and the South African company Strait Access Technologies are using 3D printing to produce custom-made artificial heart valves from silicone. This could help meet an ageing population's growing demand for replacement heart valves.
The human heart has four chambers, each equipped with a valve to ensure blood flow in one direction only. If any of the heart valves are leaking, narrowed or distended (or even ruptured), the blood runs back into the atria or ventricles, putting the entire heart under severe strain. In the worst case, this can lead to arrhythmia or even heart failure.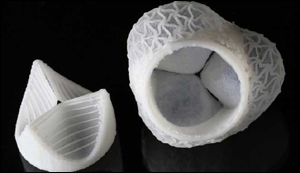 The new model has several advantages over conventional heart valves: the silicone heart valve can be tailored more precisely to the patient, as the researchers first determine the individual shape and size of the leaky heart valve using computer tomography or magnetic resonance imaging. This makes it possible to print a heart valve that fits the patient's heart chamber perfectly. The material used is also compatible with the human body, while the blood flow through the artificial heart valve is as good as with conventional replacement valves.
Read more at ETH Zurich
Image Credit: Fergal Coulter / ETH Zurich
-jk-