Convenience mart on wheels
The Moby Mart. Think the convenience store around your way only this one is designed to be autonomous, staffless, cashless, mobile and with no checkout lines. It's in Shanghai, China. The store is going through tests in performing its role as a full service convenience store on wheels.
To enter its door you download an app on your phone and when you are in the store you scan what you need from your phone. A hologram-like AI greets you, and, as you shop, you scan what you want to buy. The store will automatically charge your card when you leave.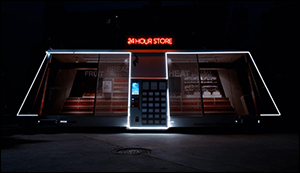 On the roof of the Moby are solar panels, which recharge the battery of the electrical engine. Forbes said the vehicle was the size of a small bus. Also, the Moby Mart will have 4 drones deployed on the roof. "We are now setting up production in China. Our price estimation is that a store will cost less than $100,000 — around a tenth of the price to build a traditional store," said the company as quoted in Forbes.
Read more at Tech Xplore
Image Credit: Fast Company
-jk-