China investing heavily in two types of solar power
China has made it known to the world that it plans to move from coal-fired powered plants to those based on renewable resources as quickly as possible—the smog from coal plants and the huge amount of greenhouse gas emissions the country produces have generated bad press for the country over the past several years.
The country's state-run utility announced recently that it had awarded a contract to U.S.-based BrightSource Energy to build a massive solar mirror farm in Qinghai province. Solar mirror farms differ markedly from their paneled cousins—they consist of thousands of mirrors that follow the sun and reflect the light toward a central boiler that powers a turbine. The new plant will be a copy of the plant BrightSource built at its Ivanpah plant near Las Vegas, Nevada, which produces 392 megawatts of electricity.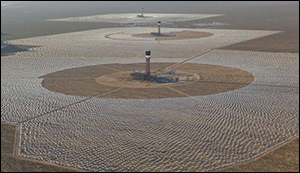 China is also investing heavily in traditional solar power—Bloomberg recently announced that a Chinese-based company has been building a mammoth solar farm in the country's Ningxia region. It is located on a barren parcel covering 4,607 hectares, will have 6 million panels and be capable of producing 2 gigawatts of power, making it the largest in the world—a single plant capable of producing more power than the total solar power production for some countries such as Thailand.
Image Credit: Gilles Mingasson
-jk-