Cheap 3-D Printer Can Produce Self-Folding Materials
Researchers at Carnegie Mellon University have used an inexpensive 3-D printer to produce flat plastic items that, when heated, fold themselves into predetermined shapes, such as a rose, a boat or even a bunny.
Lining Yao, assistant professor in the Human-Computer Interaction Institute and director of the Morphing Matter Lab, said these self-folding plastic objects represent a first step toward products such as flat-pack furniture that assume their final shapes with the help of a heat gun. Emergency shelters also might be shipped flat and fold into shape under the warmth of the sun.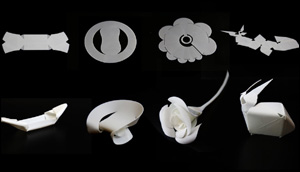 Other researchers have explored self-folding materials, but typically have used exotic materials or depended on sophisticated processing techniques not widely available. Yao and her research team were able to create self-folding structure by using the least expensive type of 3-D printer — an FDM printer — and by taking advantage of warpage, a common problem with these printers.
Read more at Carnegie Mellon University
Image Credit: Carnegie Mellon University
-jk-