Carbon doped with nitrogen dramatically improves storage capacity of supercapacitors
A team of researchers working in China has found a way to dramatically improve the energy storage capacity of supercapacitors - by doping carbon tubes with nitrogen. In their paper published in the journal Science, the team describes their process and how well the newly developed supercapacitors worked, and their goal of one day helping supercapacitors compete with batteries.
Like a battery, a capacitor is able to hold a charge, unlike a battery, however, it is able to be charged and discharged very quickly - the down side to capacitors is that they cannot hold nearly as much charge per kilogram as batteries. The work by the team in China is a step towards increasing the amount of charge that can be held by supercapacitors (capacitors that have much higher capacitance than standard capacitors - they generally employ carbon-based electrodes) - in this case, they report a threefold increase using their new method - noting also that that their supercapacitor was capable of storing 41 watt-hours per kilogram and could deliver 26 kilowatts per kilogram to a device.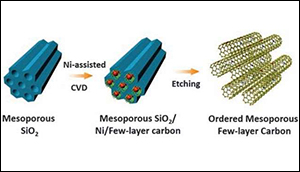 The new supercapacitor was made by first forming a template made of tubes of silica. The team then covered the inside of the tubes with carbon using chemical vapor deposition and then etched away the silica, leaving just the carbon tubes, each approximately 4 to 6 nanometers in length. Then, the carbon tubes were doped with nitrogen atoms. Electrodes were made from the resulting material by pressing it in powder form into a graphene foam.
Read more at Phys.org
Image Credit: Science
-jk-