Camouflage made of quantum material could hide you from infrared cameras
Infrared cameras detect people and other objects by the heat they emit. Now, researchers have discovered the uncanny ability of a material to hide a target by masking its telltale heat properties.
The effect works for a range of temperatures that one day could include humans and vehicles, presenting a future asset to stealth technologies, the researchers say. What makes the material special is its quantum nature – properties that are unexplainable by classical physics. The study, published in the Proceedings of the National Academy of Sciences, is one step closer to unlocking the quantum material's full potential.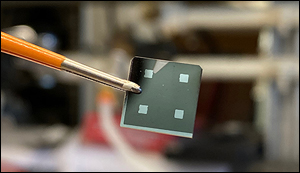 Fooling infrared cameras is not new. Over the past few years, researchers have developed other materials made of graphene and black silicon that toy with electromagnetic radiation, also hiding objects from cameras. But how the quantum material in this study tricks an infrared camera is unique: it decouples an object's temperature from its thermal light radiation, which is counterintuitive based on what is known about how materials behave according to fundamental physics laws. The decoupling allows information about an object's temperature to be hidden from an infrared camera.
Read more at Purdue University
Image Credit: Erin Easterling
-jk-