Bosch has groundbreaking battery technology for electric vehicles
Bosch is debuting a new battery technology for electric cars that could be production-ready in as little as five years. The acquisition of the U.S. start-up Seeo Inc. (Hayward, CA near the Silicon Valley) will help make this possible.
In addition to its own development in the area of battery technology, Bosch now has crucial know-how in innovative solid-state cells for lithium batteries as well as exclusive patents. With the new solid-state cells, Bosch sees the potential to more than double energy density by 2020, and at the same time reduce the costs considerably further. A comparable electric car that has a driving range today of 150 kilometers would be able to travel more than 300 kilometers without recharging - and at a lower cost.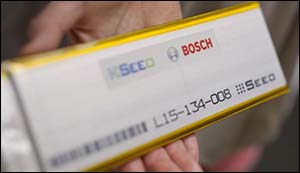 Bosch already offers a wide range of components for electromobility, from motors and power electronics to batteries. So far, Bosch has realized 30 production projects related to electromobility. At the same time, engineers are working on further refining the technology, and in doing so, making electromobility a more practical proposition. After all, by 2025, the company forecasts that roughly 15 percent of all new cars built worldwide to have at least a hybrid powertrain. In Europe, more than a third of all new cars will be electrically powered – the majority as plug-in hybrids.
Read Press Release
Image Credit: Bosch
-jk-