BASF/KIT present superconductors for energy technology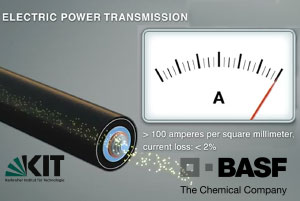 The Karlsruhe Institute of Technology (KIT) and Deutsche Nanoschicht GmbH have made it their goal to develop tailored high-temperature superconductors for energy technology applications. The research institute and the BASF subsidiary New Business GmbH have signed relevant cooperation agreements.
As part of the collaboration, the partners will open a laboratory at the Institute for Technical Physics of KIT in early 2015. Here, the scientists from Karlsruhe together with the experts of Deutsche Nanoschicht will optimize and customize superconducting thin film conductors for individual applications.
 
More reading at BASF