ASU team fuses art, engineering to create stretchable batteries
Advances could expand capabilities of wearable electronics
Origami, the centuries-old Japanese paper-folding art, has inspired recent designs for flexible energy-storage technology. But energy-storage device architecture based on origami patterns has so far been able to yield batteries that can change only from simple folded to unfolded positions. They can flex, but not actually stretch.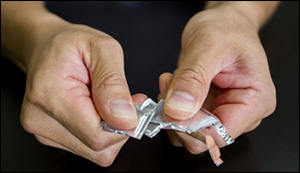 Now an Arizona State University research team has overcome the limitation by using a variation of origami, called kirigami, as a design template for batteries that can be stretched to more than 150 percent of their original size and still maintain full functionality. A paper published on June 11 in the research journal Scientific Reports describes how the team developed kirigami-based lithium-ion batteries using a combination of folds and cuts to create patterns that enable a significant increase in stretchability.
The kirigami-based prototype battery was sewn into an elastic wristband that was attached to a smart watch. The battery fully powered the watch and its functions - including playing video - as the band was being stretched. Such stretchable batteries could even be integrated into fabrics - including those used for clothing.
Read more at ASU
Image Credit: Jessica Hochreiter/ASU
-jk-