A way to cause graphene to self-fold into 3-D shapes
A team of researchers with Johns Hopkins University and MIT has found a way to cause flat sheets of graphene to self-fold into 3-D geometric shapes.
One of the main benefits of the new approach is that it preserves the intrinsic properties of the graphene, which has been the goal all along—after all, what is the point of using graphene in the first place if you have to diminish its unique attributes to make it conform to a desired shape? Another benefit is that the creases can cause a band gap in the graphene, which graphene notoriously lacks in its natural state.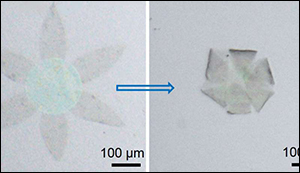 The team notes that the technique is also compatible with traditional lithography and can be applied at the wafer scale. Also, it is highly parallel, which means it should not present manufacturing problems. They also report that they tested their technique by creating 3-D shapes that were used to hold living cells and nonlinear resistors.
Read more at Phys.org
Image Credit: Weinan Xu, Johns Hopkins University
-jk-