A small, modular, efficient fusion plant
It's an old joke that many fusion scientists have grown tired of hearing: Practical nuclear fusion power plants are just 30 years away - and always will be.
But now, finally, the joke may no longer be true: Advances in magnet technology have enabled researchers at MIT to propose a new design for a practical compact tokamak fusion reactor - and it's one that might be realized in as little as a decade, they say. The era of practical fusion power, which could offer a nearly inexhaustible energy resource, may be coming near.
Using these new commercially available superconductors, rare-earth barium copper oxide (REBCO) superconducting tapes, to produce high-magnetic field coils "just ripples through the whole design," says Dennis Whyte, a professor of Nuclear Science and Engineering and director of MIT's Plasma Science and Fusion Center. "It changes the whole thing."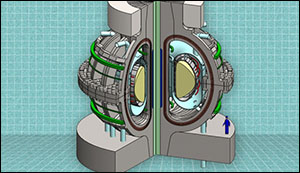 The stronger magnetic field makes it possible to produce the required magnetic confinement of the superhot plasma - that is, the working material of a fusion reaction - but in a much smaller device than those previously envisioned. The reduction in size, in turn, makes the whole system less expensive and faster to build, and also allows for some ingenious new features in the power plant design.
Read more at MIT News
Image Credit: MIT
-jk-