A flexible sensor for biometric authentication and the measurement of vital signs
Conformable imagers are flexible electronic components that can be placed in direct contact with a human user's skin, recording his/her vital signs or other biological information. Over the past few years, these imagers have become widely used, particularly for biometric authentication and in wearable electronics, such as smart watches or fitness trackers.
Building on sensors that they developed in the past, researchers at the University of Tokyo and Japan Display Inc. have recently created a new conformable imager for both biometric authentication and vital sign measurement applications. This new imager, presented in a paper published in Nature Electronics, was fabricated using a combination of low-temperature polycrystalline silicon thin-film transistor (LTPS-TFT) readout circuits and organic photodiodes.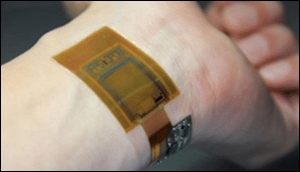 The new imager developed by Yokota and his colleagues, on the other hand, can achieve readings with a high resolution of 508 pixels per inch, at a speed of 41 frames per second. This remarkable performance is directly enabled by the integration of an organic photodetector and a LTPS-TFT into a thin, sheet-type image sensor.
Read more at Tech Xplore
Image Credit: University of Tokyo
-jk-