A curious crustacean could hold secret to making renewable energy from wood
Studying the gribble, a tiny marine organism that eats wood has revealed a surprising discovery that may be an important step in the quest for renewable energy.
Until now, scientists wondered that how gribble break through lignin – the highly resistant coating that wraps around the sugar polymers that comprise wood. In the search for the answer, scientists at the University of York studied the hind gut of gribble.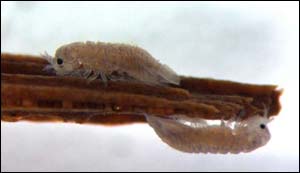 They found that the Hemocyanins play a vital role in the ability to extract sugar from the wood. Through this discovery, scientists could identify cheaper and more sustainable tools for converting wood into low carbon fuel. The study is published in the journal Nature Communications.
Read more at Tech Explorist
Image Credit: Claire Steele-King a Katrin Besser
-jk-