3-D printed biomaterials for bone tissue engineering
When skeletal defects are unable to heal on their own, bone tissue engineering (BTE), a developing field in orthopedics can combine materials science, tissue engineering and regenerative medicine to facilitate bone repair. Materials scientists aim to engineer an ideal biomaterial that can mimic natural bone with cost-effective manufacturing techniques to provide a framework that offers support and biodegrades as new bone forms.
Cost-effective three-dimensional (3-D) printing (additive manufacturing) combines economical techniques to create scaffolds with bioinks. Bioengineers at the Pennsylvania State University recently developed a composite ink made of three materials to 3-D print porous, bone-like constructs.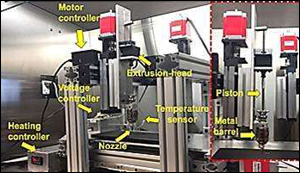 Since bone is a complex structure, researchers developed a bioink made of biocompatible PCL, PLGA and hydroxyapatite (HAps) particles, combining the properties of bone-like mechanical strength, biodegradation and guided reparative growth (osteoconduction) for assisted natural bone repair. They then engineered a new custom-designed mechanical extrusion system, which was mounted on the Multi-Arm Bioprinter (MABP), previously developed by the same group, to manufacture the 3-D constructs.
Read more at Medical Xpress
Image Credit: Journal of Materials Research
-jk-