3-D printed active metamaterials for sound and vibration control
A team led by USC Viterbi researchers developed 3-D printed acoustic metamaterials that can be switched on and off remotely using a magnetic field.
Researchers have been pushing the capabilities of materials by carefully designing precise structures that exhibit abnormal properties that can control acoustic or optical waves. However, these metamaterials are constructed in fixed geometries, meaning their unique abilities are always fixed. Now, new 3-D printed metamaterial developed by a team led by USC Viterbi researchers can be remotely switched between active control and passive states.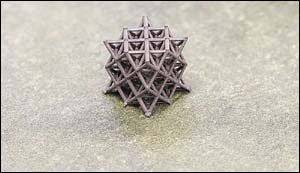 Metamaterials can be used to manipulate wave phenomena such as radar, sound and light and have been used to develop technology such as cloaking devices and improved communication systems. The team's metamaterials are able to control environmental sounds and structural vibrations, which have similar waveforms. By 3-D printing a deformable material containing iron particles in a lattice structure, their metamaterials can be compressed using a magnetic field.
Read more at University of Southern California
Image Credit: Qiming Wang
-jk-