Stretchable prosthetic skin could give artificial limbs a sense of touch
Scientists say they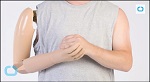 have developed a synthetic skin that acts a lot like the real deal — it's stretchable and even has a sense of touch.

A team of researchers based in South Korea said their version could result in the most advanced prosthetic skin yet, according to their new study. It details how the skin uses electronics to imitate real skin. It has humidity and temperature sensors to regular body heat, for starters, and it uses something called ultra-thin nanowire to transmit touch sensations from the prosthetic to the body. So say a person has a prosthetic arm: She would potentially be able to feel burns, the rain or a cold wind.
There's another challenge: The skin has to be connected to the amputees' nervous system. The researchers tried testing it out on a rat, but it wasn't conclusive how much the test subject felt what was going on. So some work still needs to be done, and the scientists plan to test on larger animals.
The whole report mashable.com
Image credit Youtube
(pp)