Novel Material Could Make Plastic Manufacturing More Energy-Efficient
An innovative filtering material may soon reduce the environmental cost of manufacturing plastic. Created by a team including scientists at the National Institute of Standards and Technology (NIST), the advance can extract the key ingredient in the most common form of plastic from a mixture of other chemicals—while consuming far less energy than usual.
The material is a metal-organic framework (MOF), a class of substances that have repeatedly demonstrated a talent for separating individual hydrocarbons from the soup of organic molecules produced by oil refining processes. MOFs hold immense value for the plastic and petroleum industries because of this capability, which could allow manufacturers to perform these separations far more cheaply than standard oil-refinement techniques.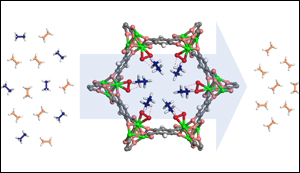 This promise has made MOFs the subject of intense study at NIST and elsewhere, leading to MOFs that can separate different octanes of gasoline and speed up complex chemical reactions. One major goal has proved elusive, though: an industrially preferred method for wringing out ethylene—the molecule needed to create polyethylene, the plastic used to make shopping bags and other everyday containers.
Read more at NIST
Image Credit: W. Zhou / NIST
-jk-