New materials could help improve the performance of solar cells
New research could lead to the design of new materials to help improve the performance of perovskite solar cells (PSCs).
Perovskite solar cells are an emerging photovoltaic technology that has seen a remarkable rise in power conversion efficiency to above 20 per cent. However, PSC performance is affected as the perovskite material contains ion defects that can move around over the course of a working day. As these defects move, they affect the internal electric environment within the cell.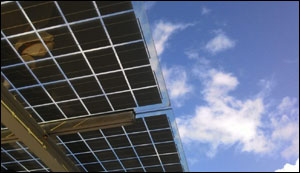 Researchers from the Universities of Portsmouth, Southampton and Bath have now developed a way to adjust the properties of the transport layers to encourage the ionic defects within the perovskite to move in such a way that they suppress recombination and lead to more efficient charge extraction – increasing the proportion of the light energy falling on the surface of the cell that can ultimately be used.
Read more at University of Portsmouth
Image Credit: Asia Chang/Unsplash
-jk-