New Discovery Makes Fast-Charging, Better Performing Lithium-Ion Batteries Possible
17.04.2019 | Rensselaer Polytechnic Institute | www.rpi.edu
Creating a lithium-ion battery that can charge in a matter of minutes but still operate at a high capacity is possible, according to research from Rensselaer Polytechnic Institute just published in Nature Communications. This development has the potential to improve battery performance for consumer electronics, solar grid storage, and electric vehicles.
A lithium-ion battery charges and discharges as lithium ions move between two electrodes, called an anode and a cathode. In a traditional lithium-ion battery, the anode is made of graphite, while the cathode is composed of lithium cobalt oxide.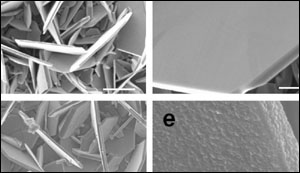 "The way to make batteries better is to improve the materials used for the electrodes," said Nikhil Koratkar, professor of mechanical, aerospace, and nuclear engineering at Rensselaer, and corresponding author of the paper. In this most recent work, Koratkar and his team improved performance by substituting cobalt oxide with vanadium disulfide (VS2).
Read more at Rensselaer Polytechnic Institute
Image Credit: Rensselaer Polytechnic Institute
-jk-